SQ-LED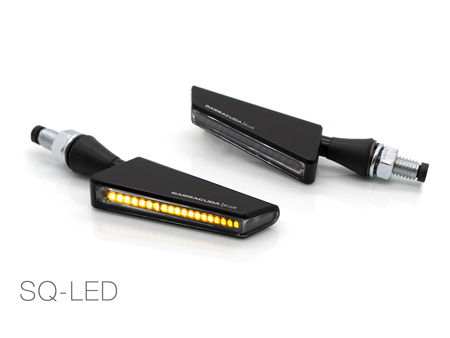 BARRACUDA SQ-LED
SQ-LED B-LUX sono indicatori Universali Omologati realizzati in Alluminio, che utilizzano tecnologia LED con lente optical e lampeggio SEQUENZIALE.
Sono caratterizzati da linee iper aerodinamiche, da uno stile futuristico ed hanno dimensioni ridotte.
Fanno parte della gamma B-LUX (BARRACUDA LUXURY PROJECT), rappresentano il TOP di GAMMA offerto da BARRACUDA. Disponibile nella colorazione NERO satinato.
Design firmato BARRACUDA. _____________________________
BARRACUDA - SQ-LED
SQ-LED B-LUX are E-marked universal indicator in aluminum that use the LED technology, optical lens and SEQUENTIAL flashing.
They have iper-aerodynamic lines, futuristic style and small sizes.
SQ-LED B-LUX are a part of the B-LUX (BARRACUDA LUXURY PROJECT) range that represent the TOP RANGE by BARRACUDA.
Available in MATT BLACK.
Design signed BARRACUDA